Our Location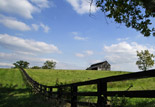 If you ask any true Kentuckian where in Kentucky they are from, he or she will tell you the county name, not the city or town. Following that tradition, Wilmore is located in Jessamine County, "The Garden Area" of Central Kentucky. It is in the very heart of the Kentucky Bluegrass region, world known for its beautiful countryside, thoroughbred horses and horse farms, the area is also known for it's numerous colleges and universities, plantation mansions and log cabins, contemporary artisan crafts and antiques, fine art and folk art, symphony orchestra and bluegrass music, distilleries and Ale 8 One, and of course Southern hospitality. Wilmore is an all-American hometown with a rich history and a world-wide influence.
Directions from Lexington, Kentucky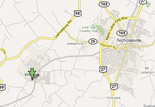 View a map at Google Maps or Mapquest.
Take KY. 4, (locally known as "Circle 4" and "New Circle Road") south around Lexington to the Lexington/Harrodsburg exit. At the bottom of the ramp, turn right (toward Harrodsburg) onto Highway 68.
Follow Highway 68 straight into Wilmore; it's only about 14 miles from Lexington. While on Highway 68, when you come to the "Y" in the road where Highway 68 and Highway 29 separate, stay to the left on Highway 29.
Once in town, Highway 29 becomes Lexington Avenue. There are only 2 signal lights in town; at the second signal light turn left onto Main Street, toward "Historic Downtown." At the railroad crossing and the red caboose, turn right onto Rice Street. As Rice Street curves to the right, it becomes Walters Lane, and there, on a small rise on the right, you will see The Potter's Inn: a large, deep green old Kentucky Victorian house with red roof and grand wrap-around white porch. You're Home!
If Traveling by Air
The closest airport is the Blue Grass Airport (LEX), about 20 min. from Wilmore. For even more flight choices, check the Louisville Airport (SDF), or the Cincinnati Airport (CVG), both about 2 hours away.