Our Policies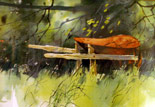 Reservations can be made up to a year in advance. No minimum stay is required, except during high demand times (i.e. major holidays, The World Equestrian Games, Asbury graduations, Ministers' Conference, Ichthus Festival, Kentucky Derby and Keeneland meets, etc.) Please visit our Book a room availability calendar.
Rates vary based on preffered room and availability. To check availability and rates, please visit our Book a room availability calendar.
Deposit & Payment. Credit card information is required to hold your reservation(s). Full balance is due upon arrival. Most credit cards are accepted, as are checks (received and cleared) and cash.
Cancellations. Because we are a small family owned business and due to the limited number of rooms available, cancellation of reservations made are often impossible to rebook. Therefore, if cancellations are made less than two weeks prior to the check-in date, and we are unable to rebook the rooms, there will be a 50% charge of the original reservation. Cancellations received within one week of the check-in date, as well as "no shows," will, of necessity, be charged the full price.
Check-in is between 4:00pm and 6:00pm. If these times do not fit your schedule, please call ahead and the innkeeper will gladly try to accommodate your needs. Also, please call if your anticipated time of arrival is changed or delayed.
Check-out is 11:00am Monday through Saturday and 1:00pm on Sunday.
Occupancy. All rooms have an occupancy limit of two. Only Room #1 is large enough to accommodate a rollaway bed for an additional occupant. The rollaway is available by request for $20 (i.e. linens, amenities and breakfast voucher.)
Accessibility. Rooms are not handicapped accessible.
Children. As is typical in older historic homes, an open stairway and balcony lead to the rooms on the second floor. The balustrade surrounding the stairwell is lower than today's standards and so is not child safe. Additionally, the original art and décor of the Inn, which has been furnished in quality "period" style, add grace and elegance to the interior but are not suitable for the rigors of small children. Therefore, well-behaved children 8 years of age or older are welcome.
Pets. The Inn does not offer accommodations for pets. We can, however, suggest a veterinarian in town, a pet hotel stay in Lexington, as well as nearby boarding for horses. This should be arranged as early as possible to acquire a spot.
Smoking. The Inn is a smoke-free environment, but smoking is permitted outside on the wraparound porch and on the grounds.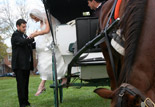 Special Events & Occasions. Small receptions, weddings and other occasions may be held on site upon approval of the owners. Rates depend upon variables such as how much of the facilities you would like guests to have access to, length of time you will need the space reserved, additional services you may wish or require, etc. Please contact us for information.