Our Rooms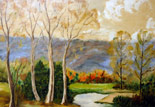 Located within walking distance of Asbury University and Asbury Theological Seminary, The Potter's Inn has four guest rooms; all are located on the second floor and are artfully furnished. Three of our rooms have private in-room baths, and our fourth has a semi-private bath in the hallway. Each room features a queen-sized bed with  either memory foam or pillow topped mattresses, wardrobe, vanity and comfortable boudoir chairs. The rooms are decorated with antiques, sumptuous colors and fabrics and original artwork that the Medlocks have collected in their travels. Room amenities also include cable TV, DVD/VCR player*, wireless internet access, original fireplaces (ambiance now supplied by electric logs), and alarm clock. If you find you have forgotten something, let us know; we probably have extras on hand. *(The Inn has a nice selection of videos available.)
Tour in Virtual Reality
View the Inn and our rooms in Virtual Reality. Click to TOUR
The Potter's House
If all four rooms at the Inn are full, two additional rooms are located at The Potter's House, the Medlock's home and Rudy's art studio. Both are log houses, dating to the mid 1800's, and were restored by the potter and his family. Click on the House tab for more information.
NEW: Make your reservations online today!
The Hallway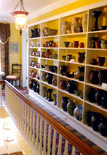 The hallway between rooms and surrounding the open stairwell is lined floor to ceiling with built-in shelves displaying used books and Rudy's pottery.. The hand-thrown ceramic pieces make perfect mementos of your stay at The Potter's Inn or beautiful one of a kind gifts. Overnight guests at The Potter's Inn are granted a 20% discount on all pottery.
The Sunroom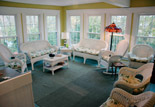 Also on the second floor, a wonderful, large sunroom provides a cheery gathering place or a quiet-time get-away for guests. Here too, is a small kitchenette where guests are welcome to snacks, coffee, cocoa, and sodas, and the use of a microwave, coffee maker, and a refrigerator to store some snacks of their own. Available too, if you need them, are laundry facilities and a small ironing board.
Also at the Inn
On the main floor are two dining rooms,  as well as a sitting room which also serves as private dining room, if needed. With two fireplaces original to the house (now with electric logs), antique furnishings, dinning tables and chairs, side boards/buffets, the space is ideal to rent for small groups, meetings, teas or receptions. Our on-site catering service, Entertaining Angels, is available to assist you with event planning.
In good weather, the expansive outside veranda is also available for use by guests to enjoy. Relax in out of our country rockers or at several small table-and-chair sets.On occasion, guests may even choose to have breakfast on the veranda.