About the Inn
The Potter's Inn is located in a grand old house known as The Lowry-Walters-Johnson House. James Lowery was President of the Wilmore Bank and had the original house built in 1888 near the Norfolk-Southern Railroad on land that was at one time to become a 70.5 acre farm. After he married Ruby Leavel in 1921, he had the house greatly enlarged at her request because the original house was "entirely too small to entertain guests." She must have liked entertaining because the house was enlarged to become a 17 room home with a lovely wrap around sun porch.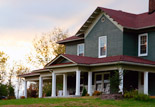 After Mr.Lowry's death, the house and farm were sold in 1940 to Charles Walters, and again later to Harley Johnson. Following Mr. and Mrs. Johnson's deaths, the heirs sold the house, now with 27 acres, in 2004 to Premier Villages whose intentions were to build a retirement community on the land. Fearing the wonderful house would be demolished, the Wilmore City Council asked Rudy Medlock, Professor of Art at Asbury College, if he and his wife Pat would be interested in saving the house if the city would sell them some land. Rudy had already done several restorations of historic buildings in the area, but this was different in that, besides much restoration, it would also necessitate actually moving the entire house across the street to a new location! The Medlocks were unsure of what they would do with it, but they were sure the Lord had a plan for the once grand home. In the summer of 2005, the house was slowly transported across Walters Lane to its new location. Most of Wilmore's finest showed up to watch the momentous event. By the end of the following summer, renovations were completed.
Believing that the inn was to become a destination for many guests, they also believed that many of those who would come and stay would be brought there for other purposes finer than just a good night's rest.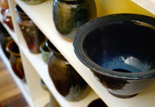 And so the Medlocks and those who helped to transform the stately old home, as well as those who work here still, have lovingly prepared this extravagantly appointed, luxurious old home as a ministry to weary travelers.
Jeremiah 18:2 has always been a significant verse to Rudy and Pat because Rudy is himself a potter.